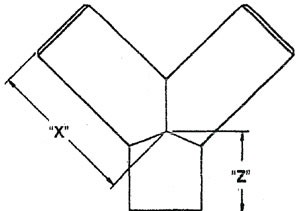 Island True Wyes offer great features:
Designed to provide unobstructed full flow characteristics.
Frictional resistance and turbulence ratios fall within the range associated with formed weld fittings.
Materials conform to ASTM A-106 GR. B and ANSI B3610 (Std. Wall).
Also avaliable in stainless steel
Bevels conform to ANSI B16.9
Welding procedures conform to ASME boiler and pressure vessel code Section 9, and the ANSI Piping Code.
Fittings are available marked in accordance with applicable standards.
Material certifications are available at no charge. Material test reports are available at a nominal charge.
Good piping practices should always prevail. The designer should always take into consideration the design data of other manufacturers' products when used in conjunction with ISLAND fittings, as well as environmental and service factors such as temperature, specific pressures, and external or internal loads.